Proud to announce that we are 1 of 2 companies in the UK that are installing Ansul Piranha Kitchen Fire Suppression System.
On 6th February Cannon Fire Protection completed training for the installation of Ansul Piranha systems. We are thrilled to be appointed as one of two installers in the UK that are actively installing this system. Stewart King, Rachael Mockler & Craig Storey went to Manchester to complete the training and get their certificates.
This new system is for kitchens but is different from the Ansul R102 system we provide because it is smaller making it better suited to smaller kitchens.  Virtually no extinguishing system is supplied without certification our Piranha system has approved both the UL (Underwriters Laboratories) and LPCB (Loss Prevention Certification Board).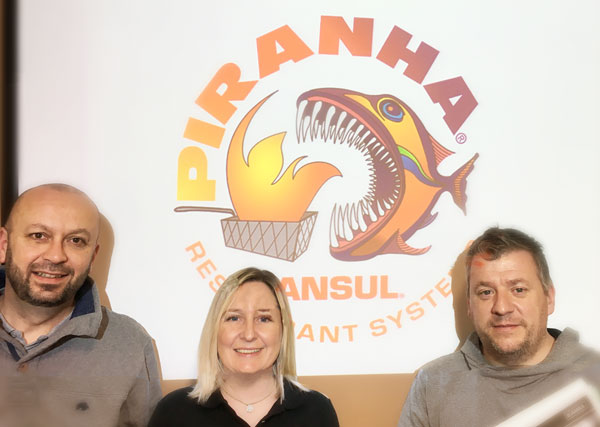 From left to right: Stewart King, Rachael Mockler & Craig Storey
 Stewart King, Ansul Director  said the following …

"Just days into our new appointment as Ansul Piranha approved distributors and already we are receiving multiple enquiries on some very exciting projects.

The decision was made to explore Piranha after various comments from the industry about system sizes and wall space, aesthetics, cost and an awareness of apathy from other distributors to promote the product. After a competitors hybrid system recently failed to gain full UL and LPCB approvals and was pulled from the market, it left the Piranha the only system in its class worldwide. With more and more responsible clients looking to future proof their kitchen operations, the overlapping style of protection is becoming more and more under demand as it allows cook lines to be altered without compromising the fire suppression capabilities, whereas the traditional R102 system, whilst extremely effective and will always have a place and purpose, does have size implications which can cause issues in smaller kitchens. To our knowledge, there is only one other approved distributor actively selling the Piranha system in the UK, therefore Cannon Fire Protection felt it was high time we offered some competition into the market and we are thoroughly looking forward to times ahead."
The Piranha system has upped the ante and allows kitchen operations a greater level of performance should the unthinkable ever happen.
For those kitchen operations that have no protection, 80% never reopen their doors, those that do suffer major losses, not just financially, but loss of staff and patrons, many who never return not to mention spiralling insurance premiums and potential lawsuits from neighboring retail units which may also be affected or from residents who suffer loss due to the fire.
However, with an Ansul system you are protected, opt for the Ansul Piranha system and should the worst happen, you could be up and running with a full menu within hours. The ANSUL® Piranha is a hybrid version of the Ansul R-102 which is the leading Kitchen Fire Suppression System throughout the world. The Piranha system uses a vastly reduced amount of extinguishant compared to the R102 but is backed up by mains water to provide a living fire blanket preventing re-ignition and also providing rapid cooling of cooking appliances and oils too well below auto-ignition temperature.
Photos of our Ansul Pirhana certificates.
About Cannon Fire Protection
With over 30 years' experience in the fire industry and 15 as an approved Ansul distributor, Cannon Fire Protection has developed an unrivalled reputation within the fire protection industry throughout the United Kingdom. Cannon is a part of the Asset Protection Group
With a highly competitive edge and a committed and pro-active team throughout the UK, we are the fastest growing and also one of the UK's leading  Authorised Distributors of ANSUL®Kitchen Fire Suppression Systems
About Ansul
Ansul systems are the "Hoover" of the Kitchen fire suppression world, with around 75% global market share, the systems are brand standards in chains such as McDonald's KFC, Burger King, Five Guys, JD Wetherspoon, Greene King, Beefeater and Nandos as well as being installed into most…Military, Education, Logistics, retail, Health & leisure locations.
Fire Protection Experts
Have a Question?